The Tourist's Guide to Montreal during the Grand Prix Weekend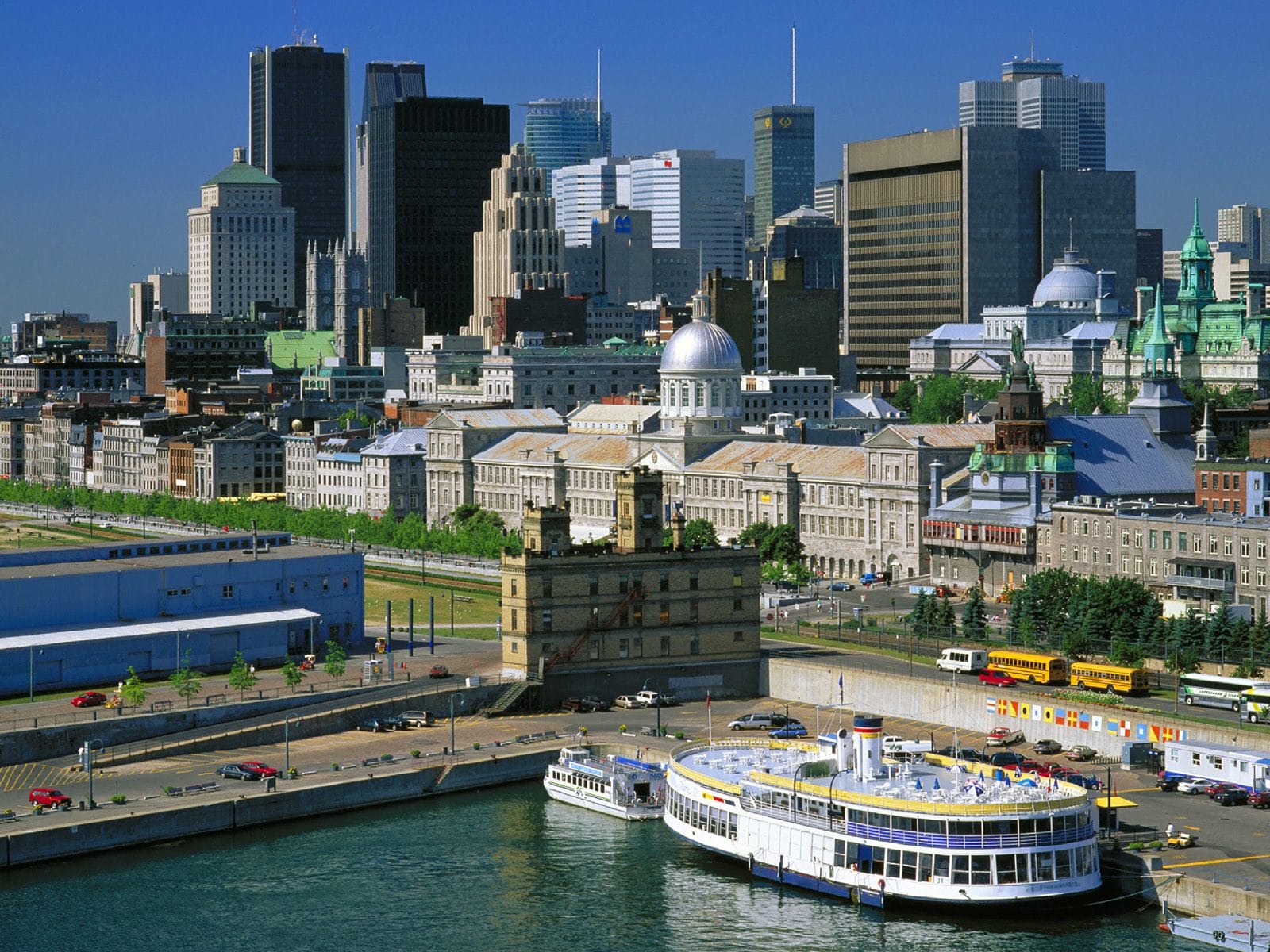 Last updated: April 14, 2018
Just because you've traveled to Montreal for the Grand Prix doesn't mean your entire stay has to revolve around the races. In fact, if you stuck to just Formula 1 events, you'd be doing yourself such a great disservice. Montreal may host one of the best F1 races at one of the most favored circuits in the world, but beyond race day, the city is a dream vacation.
After you've had your time to enjoy everything related to the race and partook in all of the Grand Prix festivities, you really should broaden your scope of Montreal a little and see what this centuries-year-old city has to offer you. You may be surprised by the abundance of things to do and places to see within the Ville de Montreal.
The Things to Know
Arrival and Transport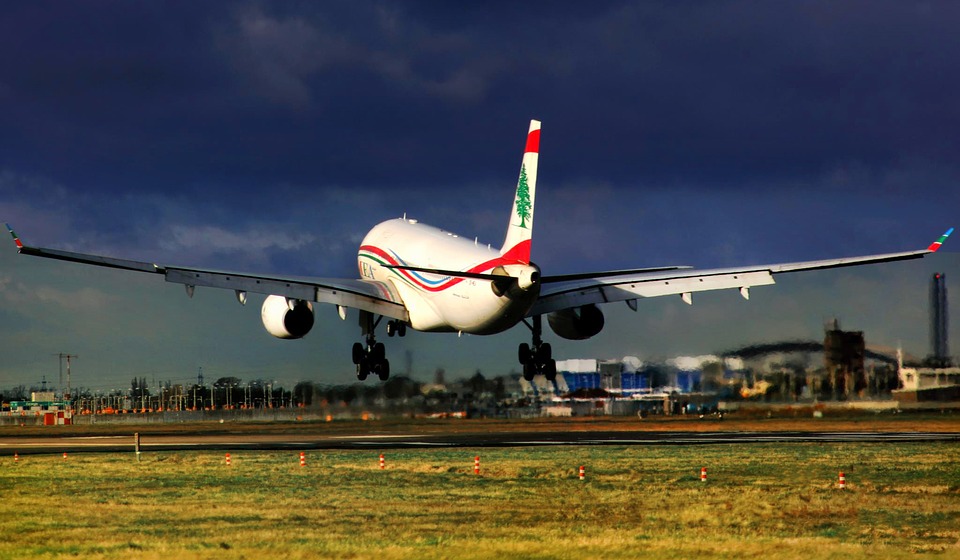 Flying into Pierre-Elliott Trudeau International Airport touches you down outside of downtown Montreal, and the near-hour-long drive to the city is a scenic tour across the southern edge of the Ile de Montreal. If you didn't rent a car – and, really, Montreal is easy to traverse without one – an express bus line will take you right into the heart of downtown. From there, everything is either in walking distance or a short metro ride away!
Taxis and Ubers are very common so if you must take a car, use those versus your own vehicle due to the lack of parking spots during the Grand Prix weekend. There's nothing worse then renting a car and still having to make a long trek because parking is not available. It's a waste of time and money.
If you go to Old Montreal, the roads are considerably tighter and require walking, carriage, bicycling,  or other non-automated modes of travel. Wear comfortable shoes and loose attired if you plan on making your way through Old Montreal.
Hotels
Most hotels are in Downtown Montreal which is the heart of the city and give you access to everything via subway.  There are some hotels in remote areas of the island, but those are not recommended because you'll end up wasting valuable time commuting instead of enjoying the weekend.  All our suggested Grand Prix hotels in Montreal only include hotels close to all the action so contact us if you need help choosing hotel.
In a Montreal hotel, you can treat yourself to a comfortable and luxurious suite without breaking the bank. While you'll be spending a lot of your time out and about in the city, it's always nice to come back to something spacious and filled with the most opulent of fixtures and furnishings.
Language
Traveling to a new city always comes with one justifiable concern – the language barrier. Though you'll hear plenty of French during your stay in Montreal, English is incredibly common and it'll be rare that a difference in language will keep you from enjoying yourself. Especially during the Grand Prix, when Montreal becomes a veritable melting pot of cultures and countries. Expect to hear languages from all over the world when you're in town for the races.
Currency
Almost as much of a barrier as language can be, if not more-so, is the currency of an international city. While some establishments throughout the city may take US dollars or other international money, the exchange rate is non-existent. There are several places to turn your currency into Canadian Dollars for the optimal exchange rate, and with souvenirs and race day memorabilia all around you, you'll want to get the most out of your buck.
Climate
Though June may spell warm mornings and hot days where you're traveling from, in Montreal, you can expect very comfortable temperatures. The average typically ranges from 20°C-25°C / 70°F-77°F so it's a good idea to pack clothing for chillier weather, especially if you plan on walking around at night.
Don't forget that the city will be packed, especially if you plan on joining the late night parties. Even if it's a little chilly, the collective body temperatures should keep you warm if you decide to pack lighter.
Cuisine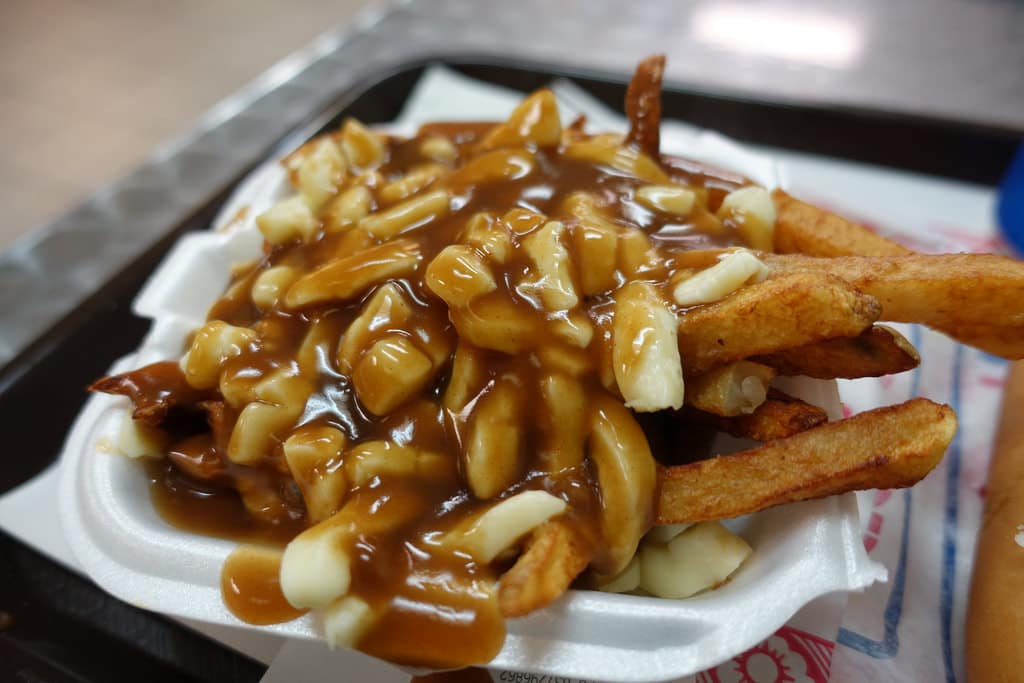 The food in Montreal is absolutely world class and there's no doubt that, no matter your palate, there's a dish for you. Of course, as with any city, there are certain establishments you'll want to try, including St. Viateur Bagel, which has been serving up expertly crafted bagels from an Eastern European recipe since the 50's and Wilensky's, a local favorite serving up a hand-sliced brisket on rye. The Mile End district of Montreal is home to both must-try eateries along with a fair amount of other fine dining restaurants.
When it comes to dishes you're likely to see a lot of in Montreal, Orange Julep, poutine, foie gras poutine, and pate chinois, or the local take on shepherd's pie, are popular dishes. Among those, poutine, or French fries topped with gravy and cheese, is an absolute must, especially if you have a long day of walking ahead of you.
The Small Town / Big City Feel
One of Montreal's most appealing features is that, though it has the workings of a great city of the world, it doesn't feel like a densely-populated region that's more of a chore to walk around. Though it is Canada's second-most populated municipality, it's still charming. In fact, at some points around the city, you may even feel like you've stepped inside of some Dickens Village, especially as you get closer to Old Montreal near the St. Lawrence River. Many roads are far-too-narrow for automobile transportation, so don't be too surprised when you see an abundance of carriages and bicyclists making their way throughout this historic slice of Montreal.
It's far too easy to get sucked into the quaintness of Old Montreal and forget that, during the races, this area is turned into a party zone complete with nightly festivities, vendors, and plenty of food and drink; but it's also okay to leave the hustle and crowds of race day behind to enjoy something more serene and rooted in the city's rich history, dating back to its founding in 1642.
Montreal is home to 3+ million people and is brimming with life and plenty of attractions to get lost in. In fact, we hope you spend a lot of time in the city to ensure you see as many of these historically rich and engaging attractions and sites as possible.
Your Attraction Guide to Montreal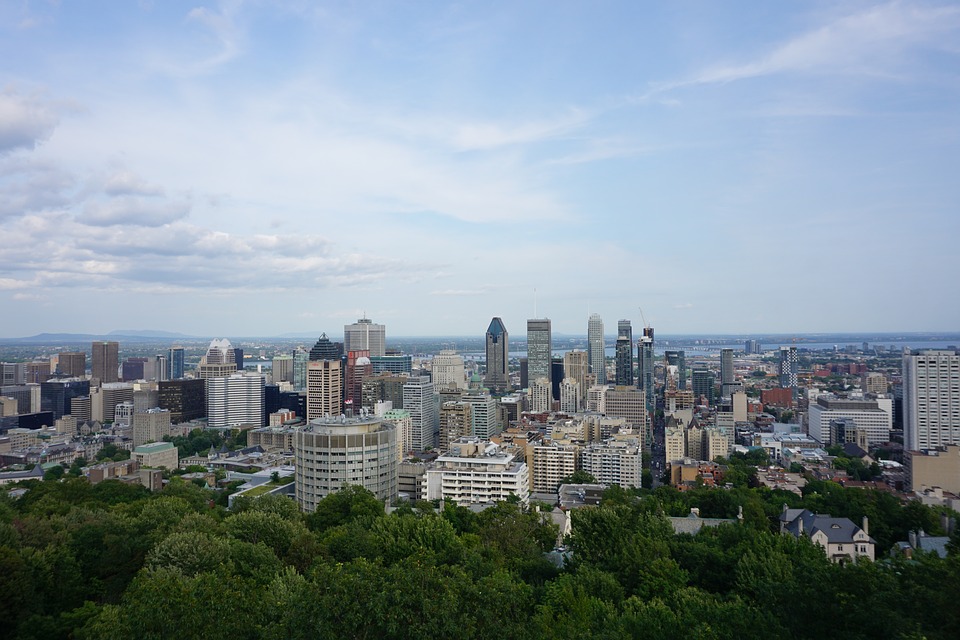 Through its five-century history, Montreal has become a breeding ground for entertainment and culture and it all shows through the many tourist spots you'll want to hit during your stay. Simply walking through downtown Montreal is a trip through time as you pass by historic buildings like the LeBer-LeMoyne House from 1671, the Saint-Sulpice Seminary from 1687, the remnants of the Sulpician Towers and Fort de la Montagne from 1694, and the Saint-Gabriel House from 1698. These impressive structures have survived the test of time, becoming engrained in Montreal's lengthy history.
For any traveler looking to understand what Montreal was built up from, these spots are a must-see. Their design and construction call back to simpler times and helps you deviate yourself from the everyday, if only for a short while. Almost acting as a stark contrast to the Montreal Grand Prix, these structures show the subdued side of this great Canadian province.
Old Montreal
To further immerse yourself in the history of Montreal, a walk through Old Montreal is an absolute must. Be warned, however: despite how relatively small Old Montreal is, it is home to a fair amount of historical buildings, attractions, and tourist spots.
The elder city, once known as Ville-Marie Montreal, was established at Pointe-a-Calliere, where the Pointe-a-Calliere Museum now stands. An archeological wonder and impressive collection of artifacts, the museum is a complex of multiple buildings that contain nuggets of history from the old city. Millions of artifacts collected over time are displayed, most of them left exactly where they were found.
The oldest portion of Montreal is also home to an 1820s Gothic Revival church, the stunning Notre-Dame Basilica, which houses an original pipe organ and ornate stained glass depicting the religious history of the city. More details about the city's history can be found down the road from the Basilica in the Centre d'Histoire de Montreal. Deviating a bit from religious tales, the center is a three-floored gallery that sends you back in time to the founding of the city and beyond.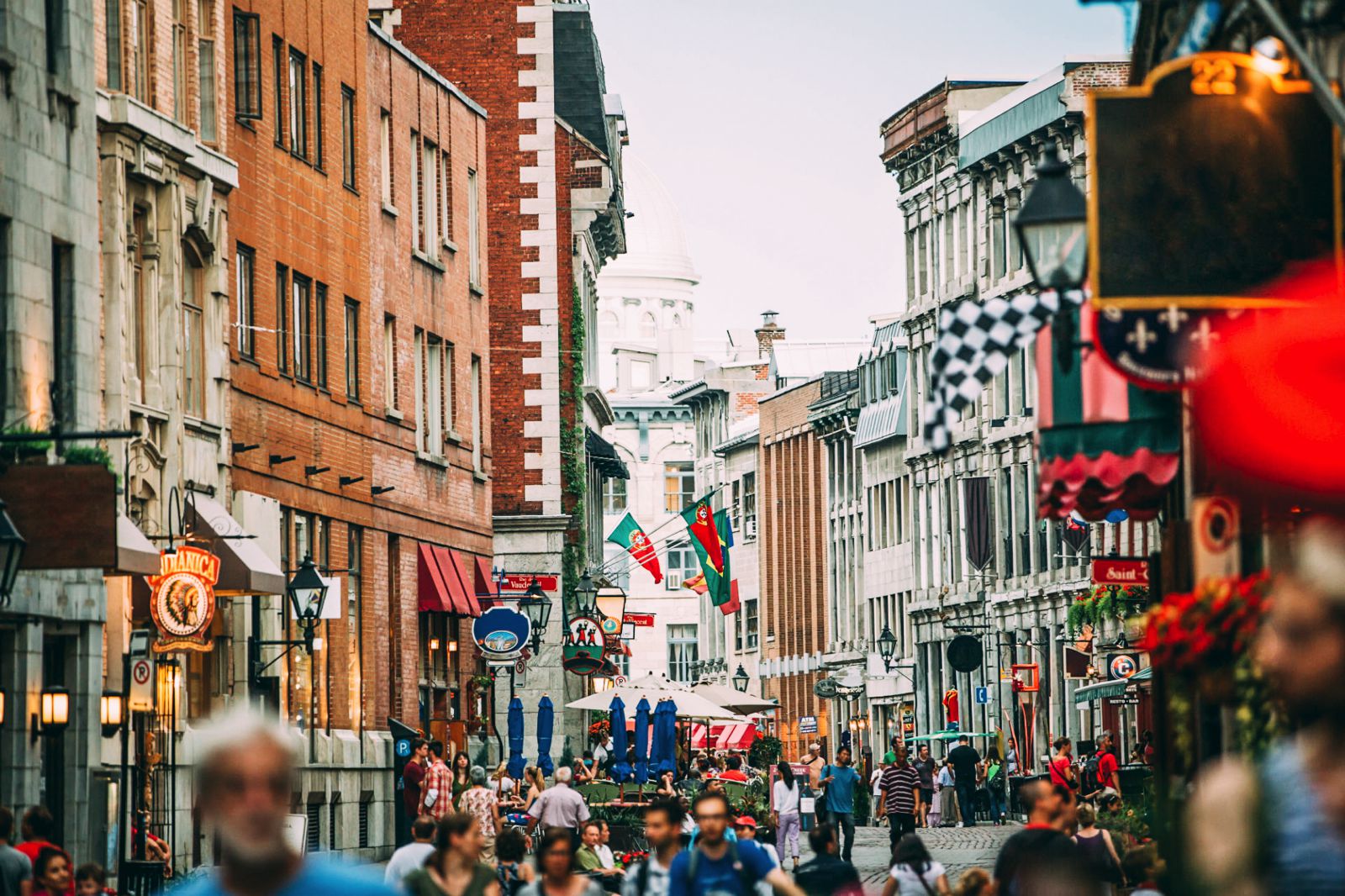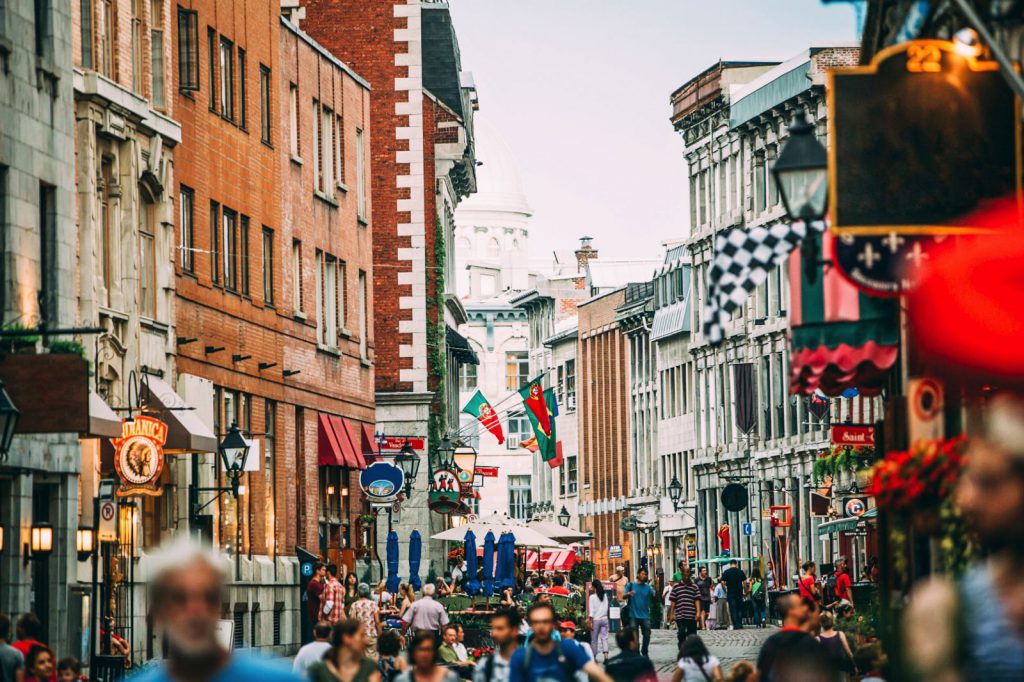 On the opposite side of Old Montreal from the Centre d'Histoire de Montreal, curious travelers will stumble upon what was once an area of bustling commerce. Today, tourists flock to the outdoor cafés of Place Jacques-Cartier and enjoy hours of watching street performers and access to the Chateau Ramezay. The private museum, which displays a collection of relics throughout time, resides in an 18th-century structure that was once the home of the governor of New France.
Built in 1872 and reconstructed in 1922 after a fire destroyed much of the structure and the city's records, the Hotel de Ville is a focal point of the city's government and administration. As a focus of Old Montreal, the large structure is a depiction of the classic "Second Empire" style of architecture in Canada and is an important facet of the city's local government. In 1984, it was added to the registry of national historic sites in Canada, solidifying it as a point of interest for travelers to Old Montreal.
From the outside, the Marche Bonsecours looks like a government building, fit to house the whole of the Canadian administration. In reality, Marche Bonsecours translates to Bonsecours Market and this 170-plus-year-old building is a public market and upscale mall with outdoor cafes, shopping boutiques, and dining establishments.
Despite a scheduled demotion in the 60s, the building was turned into a multi-purpose facility for locals and tourists to shop in and business to use as an office space. More than just a mall, Marche Bonsecours was dubbed a National Historic Site of Canada in 1984.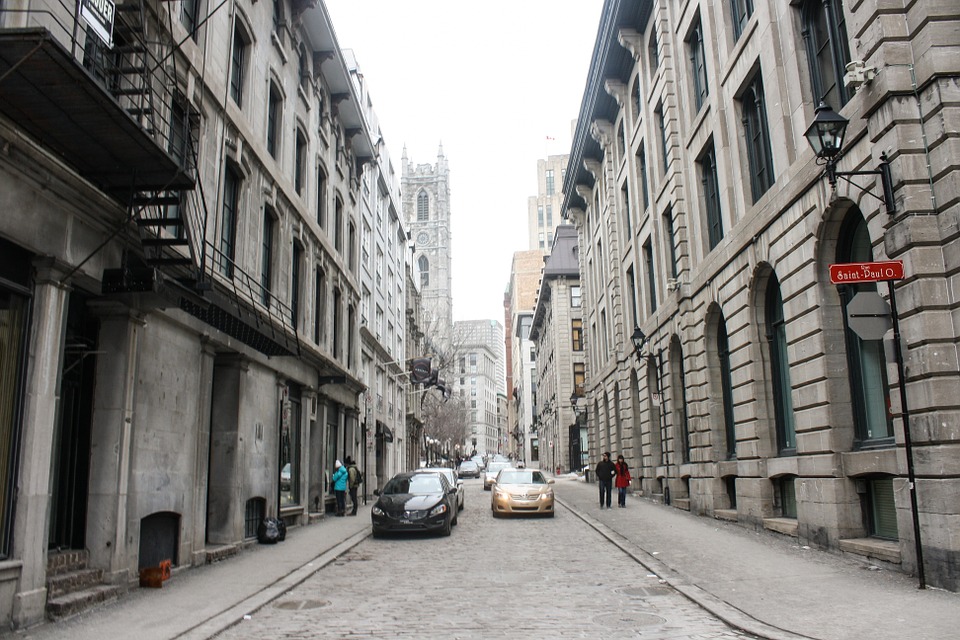 Located along the St-Lawrence River, you'll find Vieux-Port de Montreal, or the Old Port of Montreal. Once a port of harbor for French fur traders, the old port is not a region of recreation for locals and tourists. The very popular attraction was built up in the 90's to host the Montreal Science Center and the eye-catching Montreal Clock Tower. The 1.2 mile (2 km) stretch offers Segway rentals, a walkable boardwalk, and is the perfect venue for a walk in the mild Canadian weather. Scheduled for completion in June of 2017, the Montreal Observation Wheel will be a focal point of Old Port, giving views of the city from over 180-feet (60 m) high.
If you're a traveler that loves history, there's no doubt that these spots should be high on your list of places to visit during your Montreal Grand Prix extravaganza, but there's so much more to Quebec's largest municipality than just the past. Step beyond the historic confines of Old Montreal and you'll find an abundance of thrills and fun perfect for travelers of all ages.
La Ronde Amusement Park
If the thrills of race day weren't quite enough for you, make a stop at La Ronde Amusement Park, which once served as the site of the 1967 world fair. After a Six Flags takeover, the park was converted into 146 acres (400 hectares) of fun, featuring 40 different rides. Children and adults alike will revel in the fun and enjoyment of this land of entertainment.
Test your will on the Goliath roller coaster, find your center of gravity on the loop-filled Boomerang, or take on the tallest two-track wooden roller coaster in the world with Monstre. Tackle all 16 thrill rides or slow things down a bit and have some innocent fun with your family with the bumper cars or Aqua Twist or simply tour the park aboard the Minirail.
Musee Grevin Wax Museum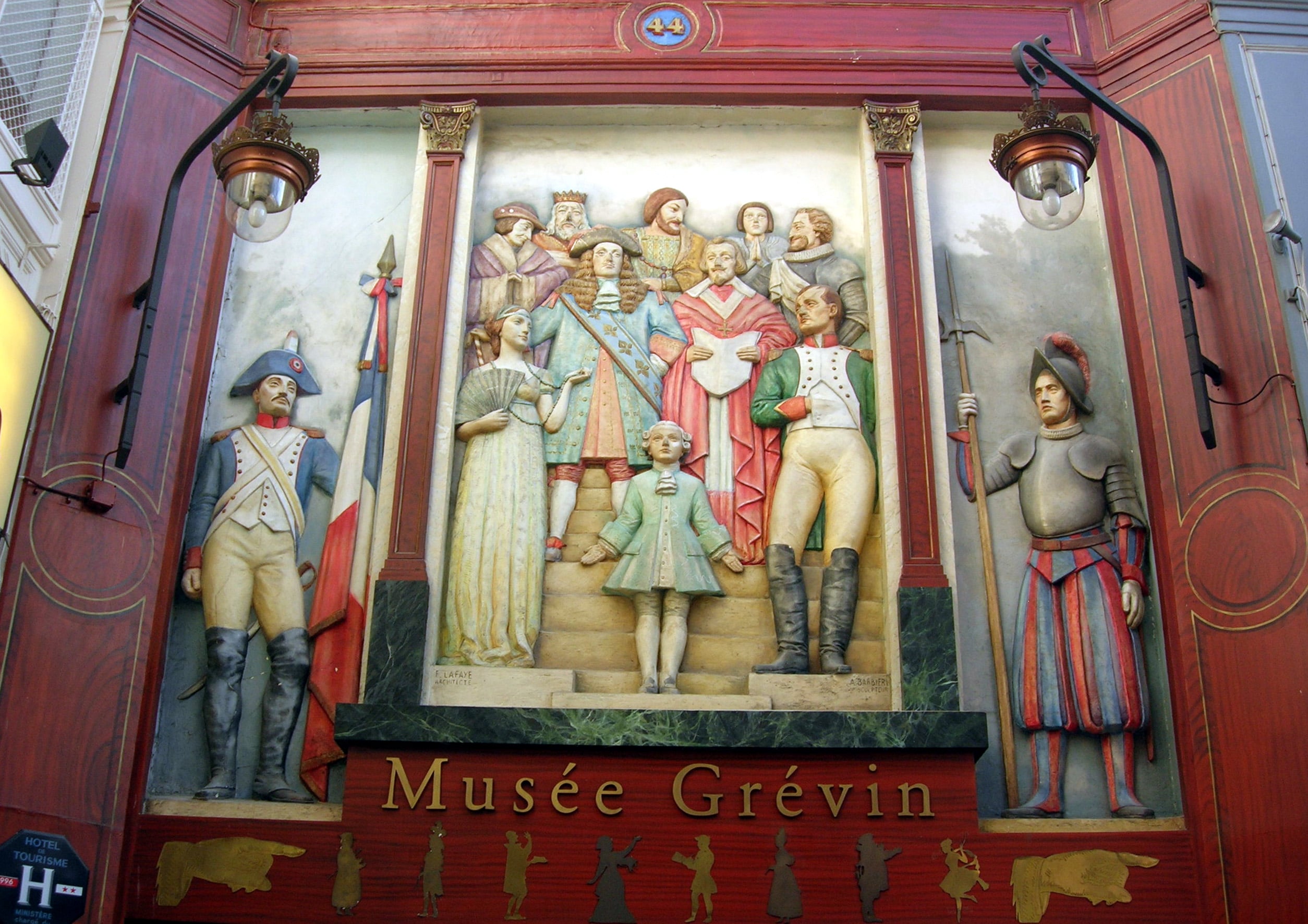 Lovers all off things Hollywood, mainstream music, and Canada will want to spend some time strolling through Museé Grévin, a museum of wax that features lifelike renditions of famous stars of the silver screen and the main stage. More than just a wax museum, Museé Grévin is a tribute to Canadian culture as it only houses figures of importance to the country's and Quebec's history.
Recognizable faces like Celine Dion, Donald Sutherland, and Leonardo DiCaprio share the floor with important individuals of Canadian history like Jacques Cartier and other worldly people including Mahatma Gandhi and Elizabeth II.
Olympic Park
In 1976, the Summer Olympics came to Montreal and so Parc Olympique came to be.  Mixing the city's history with an enthusiasm for sports, Parc Olympique features the Montreal Tower, which takes guests 540-feet (165 m) over the city for breathtaking views. At a 45° angle, the tower overlooks The Stadium, which is a visual haven for sports fanatics and looks out at the St-Lawrence River valley. Take your sightseeing to the next level with this unique structure, which takes the cake as the tallest inclined tower in the world.
In case you haven't noticed, Montreal has quite a few features and attractions that outshine others like them in the world and with its impressive tilt, the Tower at Parc Olympique may be one of the most remarkable.
Montreal Biodome, Insectarium, Botanical Garden, and Rio Tinto Alcan Planetarium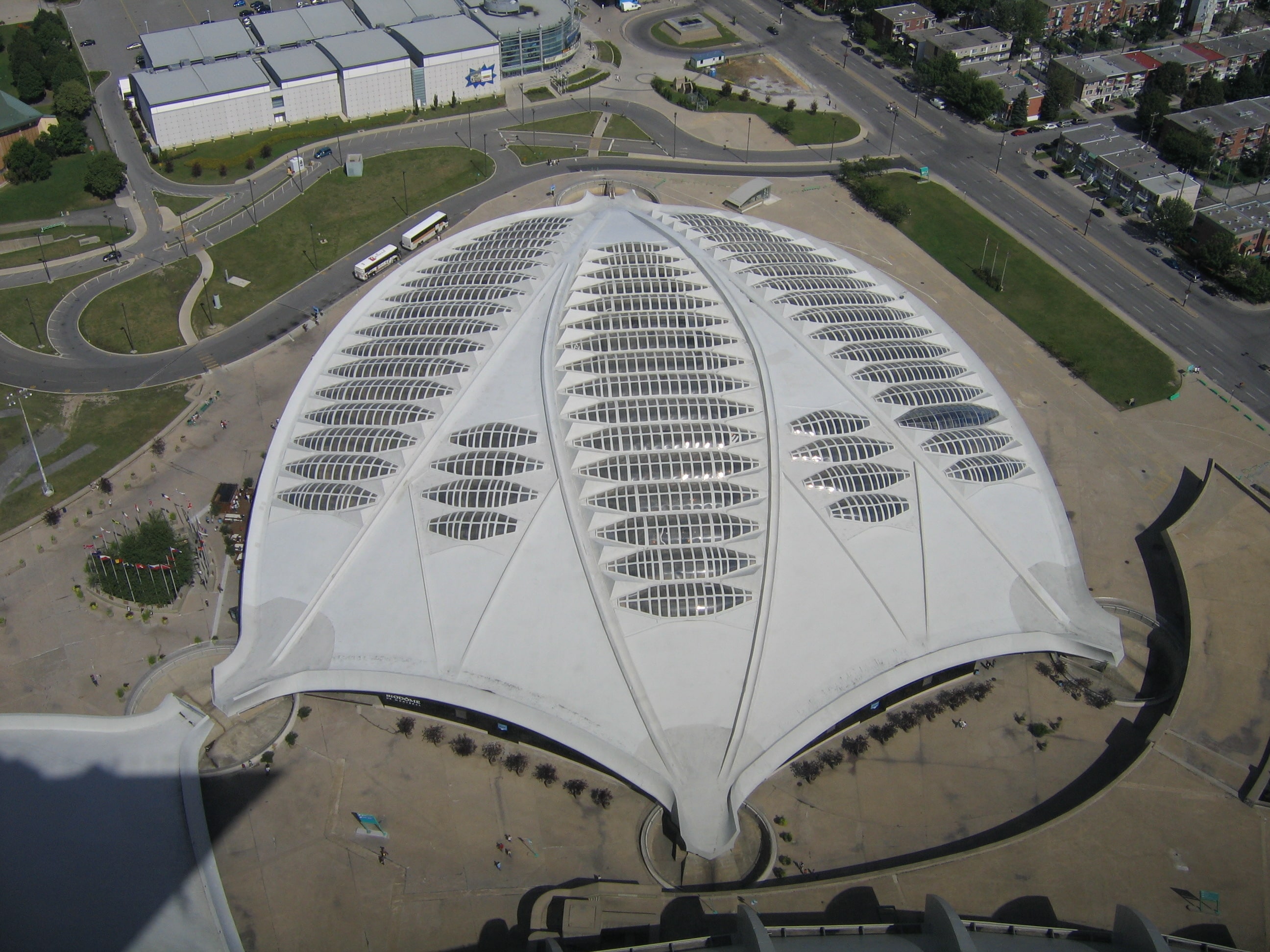 Just because you're in the middle of a city doesn't mean you're so far removed from nature. In fact, within Parc Olympic you'll find an indoor nature exhibit built within the Olympic Games' velodrome. What once played host to judo and cycling events was later converted in 1992 into a natural gallery that was quartered to display four different American ecosystems.
If your interest lies in natural history, you'll love trekking through the wilds of South American rainforests, the dense greenery of North American forests, the arctic regions at each pole, and Canada's own St-Lawrence ecosystem, modeled after the habitat of the Gulf of Saint Lawrence. Each environment features its own selection of wildlife, including lynx, macaws, and penguins that add up to over 4,802 types of animals in these simulated habitats.
The biodome is the first of four facilities that make up Canada's natural science museum complex, accompanied by the Insectarium, or the largest museum of insects in North American; the Botanical Gardens, a 190 acre (75 hectare) space of gardens and greenhouses filled with plants from China, Japan, and Canada; and the Planetarium, which rounds out a natural excursion by taking curious travelers to space in a series of shows and exhibits.
A Trip to Montreal…
There's nothing that says your Montreal Grand Prix experience can't turn into a lengthy, in-depth tour of the classic city. All you need to do is break away from the race day mentality to explore one of the world's greatest cities. Travel to Montreal for the race and get the added benefit of a city overflowing with engaging history, inviting culture, delicious cuisine, and can't-miss attractions!