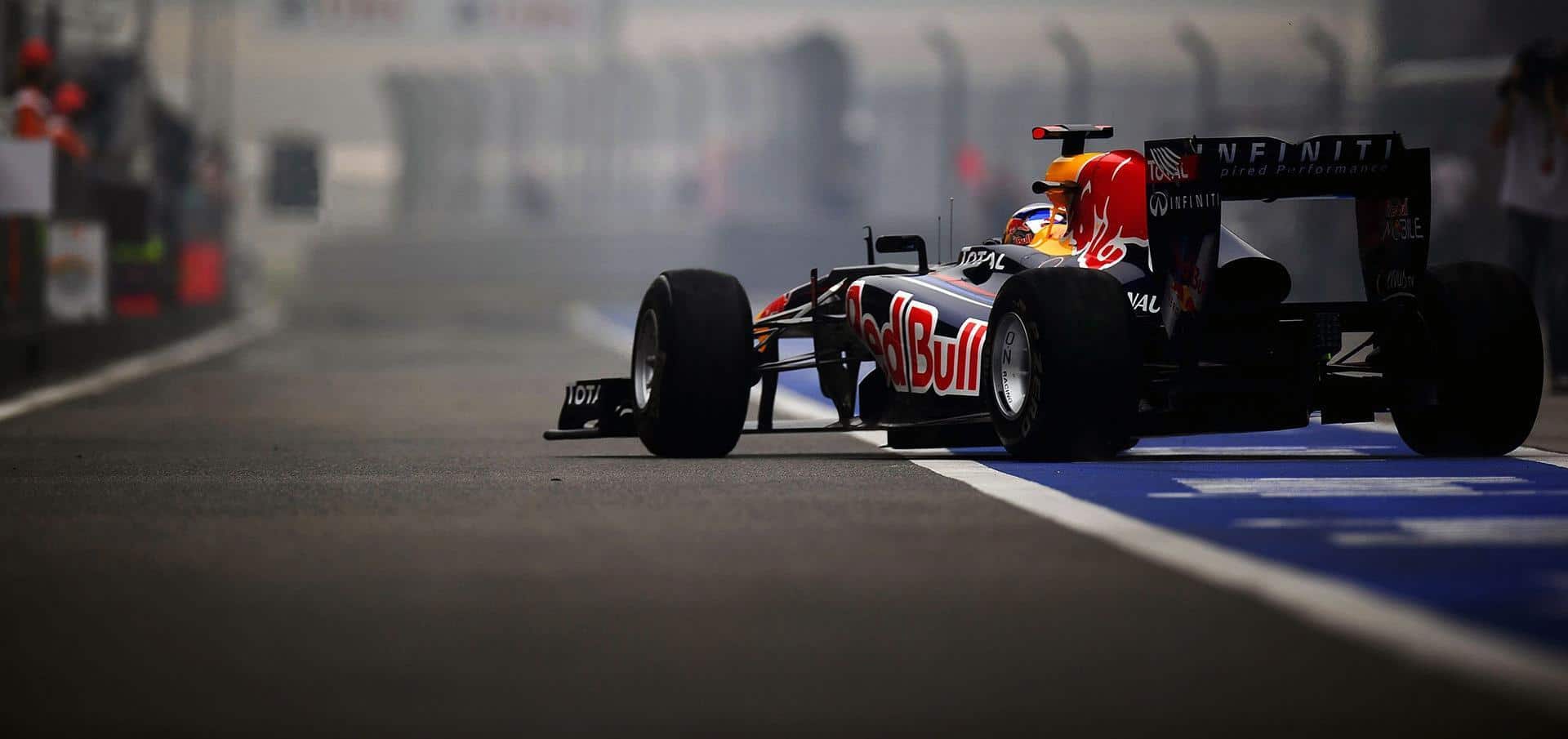 Top Montreal Grand Prix Parties for 2022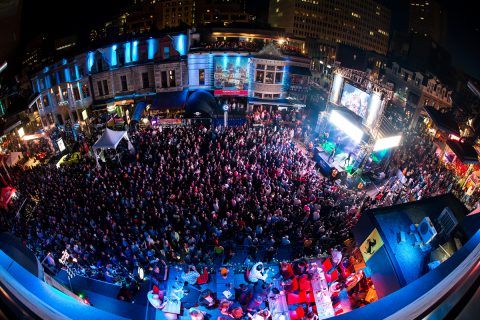 The Montreal Grand Prix is THE biggest event in all of Canada. It's 3 days of class, charm, world-class parties, and more.  An estimated 300,000 race fans pile into downtown Montreal over the GP weekend!
See the list below for the list of the hottest events!
Or have us take care of your Formula 1 weekend in Montreal  — need to get into a party or book a table at a nightclub?  We can arrange it!
Contact us for Tickets / Reservations
Top F1 Parties & Events
Free Events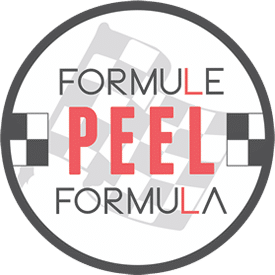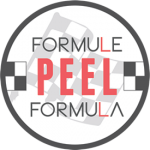 Formula Peel Street Event
Date: June 15-19, 2022
Location: Formule Peel – 1448 rue Peel
As part of the Grand Prix, Peel Street merchants come together to organize the most prestigious event in downtown Montreal: The Peel Formula Event. More than 400,000 visitors are expected in June to travel on Peel Street during the weekend of the Grand Prix de Montréal.
Thanks to its renowned restaurants, terraces, and high-end boutiques, Peel Street ensures success for the event where luxury cars, fashion, music and gastronomy merge in a distinguished atmosphere.
More Info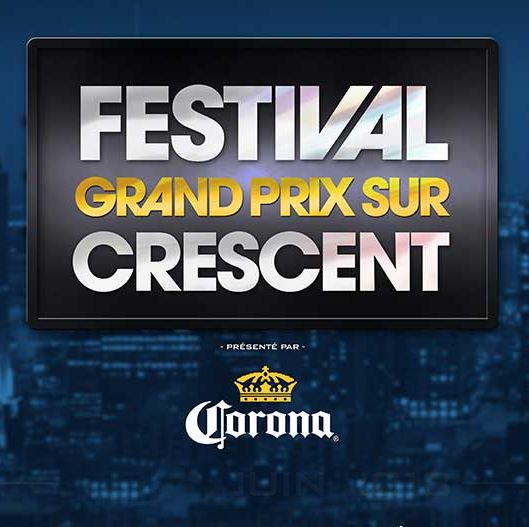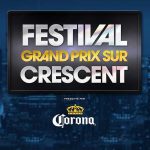 Crescent Street Grand Prix Festival
Date:  June 15-19, 2022
Location: Crescent Street & De Maisonneuve
Ever since 1999, the Crescent Street Festival has transformed the street into a free venue for race aficionados, tourists and Montrealers to celebrate the biggest race in Canada with live performances, race car displays, and DJs mixing the hottest music all day long.
More Info
Other Grand Prix Events
Over Grand Prix weekend, the Auberge will play host once again to Montreal's most exclusive VIP event. The Auberge is also home to one of the trendiest spots in a city internationally renowned for its nightlife, and an elegant and welcoming site able to accommodate any large-scale event.
Date: To be announced
Location: Auberge Saint-Gabriel, 426 Saint-Gabriel
More Info / Buy Tickets
Imagine entering a venue that has three distinct spaces inspired by the 1920s that will make you feel as if you have traveled back to a time of great prestige. Every space was carefully designed to bring an air of exclusivity and a definitive sense of sophistication. Our dinner menu was designed with Asian-French leanings and a touch of Sicilian flair inspired by our executive chef Andrew Bajjani. Visually delightful and pleasing to the palate we aim to bring you a fresh and inspired culinary experience!


Date: To be announced
Location: Bord'Elle, 390 rue St-Jacques West
More Info / Buy Tickets
A completely revolutionized take on a Japanese Steakhouse and supper club that authentically merges the clean and zen-like traditions of Japanese culture within an evolved and fully immersive setting.
Date: To be announced
Location: 1234 De La Montagne, H3G 1Z1
More Info / Buy Tickets
The Maxim Grand Prix Party will unveil its premiere party during the weekend of the Grand Prix and will be known as a landmark for the next ten years.

This long-anticipated event will be the hottest party in Montreal on Saturday June 18th, 2022, at the prestigious Windsor Station. Guests surrounded by artists, celebrities, admired influencers, business moguls & athletes, will gather in a playground featuring captivating brand activations, buzz-worthy photo opportunities, race-themed experiences, live performances, and entertainment.

If you think you can handle the hype of Maxim Grand Prix Party, then go ahead and grab your tickets or your VIP lounge for your crew while they are still around. Dress to impress and immerse yourself into the sizzling world of Maxim as you enter the Red-Carpet Experience.


Date: To be announced
Location: 1160 Avenue des Canadiens de Montreal, H3B 2S2
More Info / Buy Tickets
VIP Concierge Services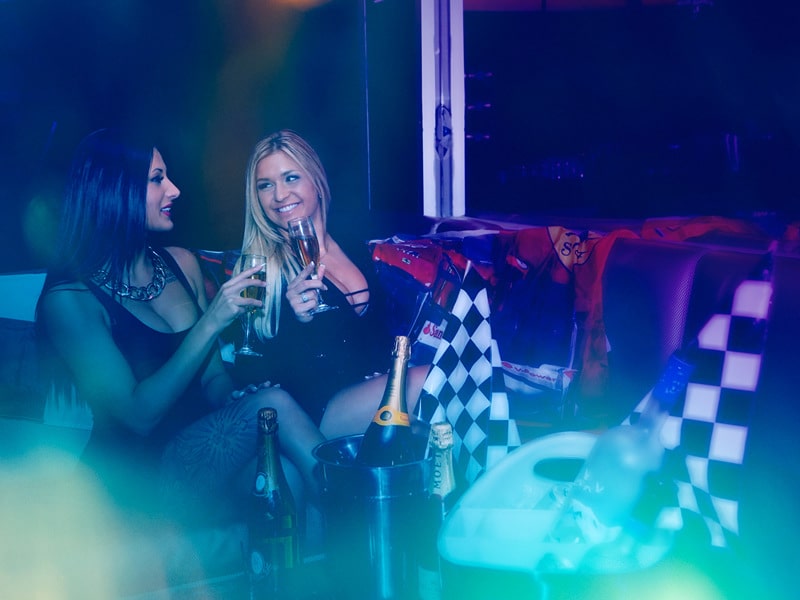 Need help planning and arranging your preferred events and parties? With our personalized concierge service we plan your entire stay — from the race tickets, to the hotel, and your weekend parties and events.
Included in our service:
• VIP treatment from start to finish
• a VIP host assigned to you
• you will have access to them 24/7 throughout your stay
• your host will make sure your reservations are respected by Montreal's best restaurants and hottest nightclubs
• walk you straight passed any line ups
• see that you are seated to your table

We're Montreal nightlife experts — need to get into a party or book a table at a nightclub?  We can hook you up!
Grand Prix Weekend Festivities
Let's face it, you didn't come to the Montreal Grand Prix
just
for the race.
Sure, it's the highlight of the entire weekend and is more than enough excitement to fill your tank until the next F1 race, but you also likely came knowing that Downtown Montreal isn't one to shy away from the party scene. No, in fact the city thrives on it, and during Grand Prix weekend, Montreal is the place to be if you're looking for the greatest parties this side of the Atlantic. Like New York City's Time Square during New Year's Eve, the downtown streets of Montreal are packed with people, all immersed in the nightlife atmosphere the city emanates so flawlessly and fueled by the thrill of the Grand Prix.
Crescent Street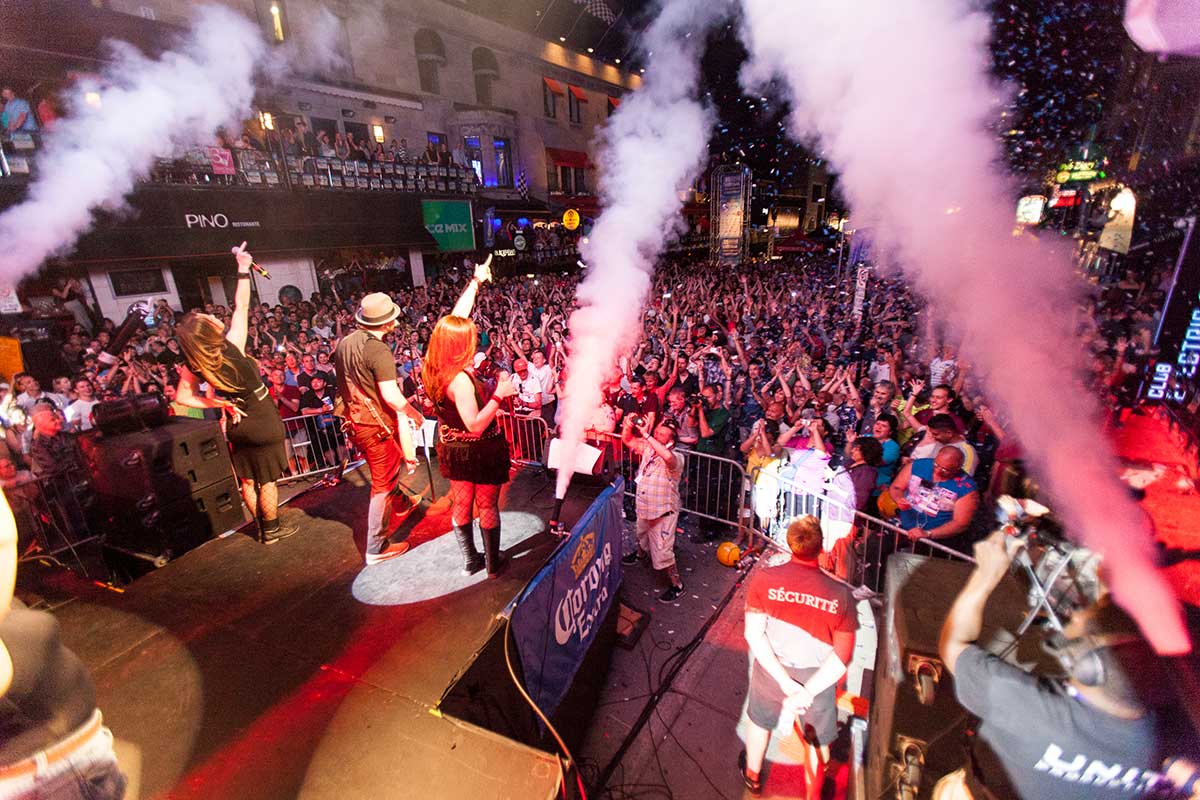 Your focal point for the greatest of Grand Prix events and parties is going to be down Crescent Street, in the stretch between Ste-Catherine Street and de Maisonneuve Boulevard. The party congregates here for the greatest selection of street vendors and food to be found in Montreal.
The streets will be packed not just with fellow race fans, but with show cars to gawk at. The Grand Prix afterparty brings the best part of the races to the streets with a collection of cars to make any car enthusiast drool and a chance to meet the drivers of the F1 series. Vendors dish out free merchandise with an abundance of giveaways and the best of racing is brought to life in high-adrenaline racing simulators. Partake in pit stop challenges that test just how much you know about the Grand Prix and how quick you are on your feet.
As you make your way down the street, passing temptation after temptation, it's difficult to not want to stop at the concert stages, where local musicians bring the party to life with high-energy performances. The streets are filled with music booming from the Corona stage, performed by the best of Canadian entertainment. DJs ring in the nightlife entertainment to further fuel the festivities as the party creeps its way into the wee hours of the evening.
There are plenty of places to eat along Crescent Street, just don't hesitate if you see an open table. With the amount of people there celebrating on F1 weekend, it's not going to stay empty for long, and with the amount of fun you'll be having, a bite to eat is imperative for fully enjoying your experience.
Crescent Street will be brimming with activities to get sucked into, making it impossible to not find something you'll enjoy, but if it gets a little too bumper-to-bumper for your liking, make your way to Peel Street, which is also closed off for the Grand Prix festivities.
More shining examples of pristine automobiles line the street as their proud owners show off years of hard work to design and build their masterpieces. As you gawk at the raw horsepower lining the street, don't forget to stop for a bite to refuel yourself for the continued bash.
Downtown Montreal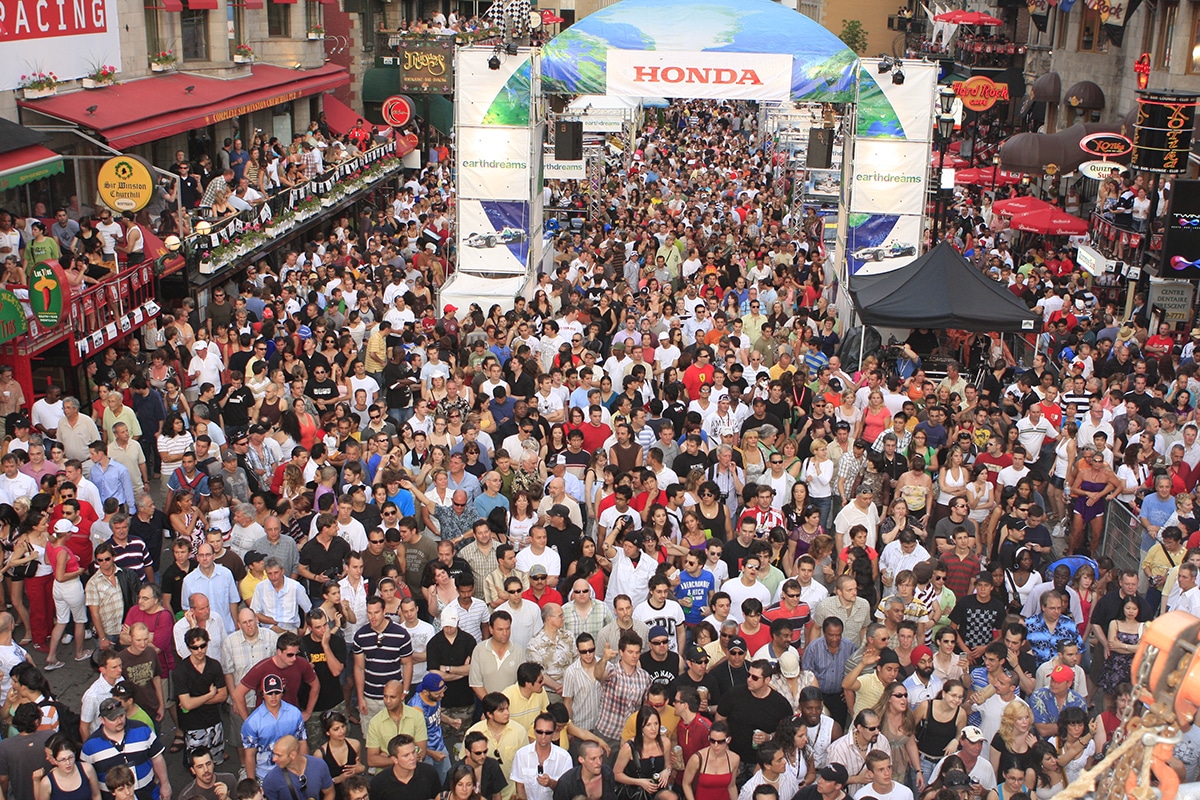 Prepare yourself for a crowd as an estimated 500,000 fellow race enthusiasts will be walking the streets, sharing the excitement of being immersed in the greatest race-day party the world of Grand Prix racing has seen. Amidst the slew of race-day fanatics and tourists that stumbled upon this massive block party, the Grand Prix is also known to draw in a crowd of celebrities. Keep an eye peeled to see if your favorite actor, actress, or musical artist is celebrating the races in one of the year's biggest parties.
Beyond even Peel and Crescent Street, the racing fun spills out into Old Montreal, where a portion of St. Paul is closed off to feature plenty of kiosks and grills. It may not draw in the same crowd as the festival on Crescent and Peel, but it offers enough for the F1 fan to feel like they're getting the absolute most out of their weekend.
We know you've been waiting most of the year to get lost in Grand Prix weekend, and for your patience you deserve the best pay off. Party in the streets of Montreal, get lost in the fun of live entertainment, ogle the classic cars pulled out specifically to honor race day, stuff your pockets with free merchandise from countless vendors, and enjoy the finest foods that the city of Montreal has to offer.
Montreal Nightlife Frequently Asked Questions
What is the legal drinking age in Montreal?
The legal drinking age is 18, making Montreal's nightlife very accessible.
What about buying beer and alcohol in Montreal?
You can buy beer until 11pm daily at the depanneur (convenience store), or hard liquor at the SAQ (Societe d'Alcool du Quebec aka Quebec's liquor Commission) normally from 9am- 5pm, Monday through Saturday, and until 9pm on Thursdays and Fridays at certain locations.
What about "after hours" clubs?
After hour clubs stay open till late mornings (11am-noon) but do not serve alcohol.
When is closing time for Montreal in bars, clubs, restaurants, etc?
Bars and clubs in Montreal in Montreal close at 3am.  They serve alcohol until 3am.
Need help planning your Formula 1 weekend in Montreal?
Need  party or event tickets? Need to book a table at a nightclub?
We can arrange it:
CUSTOM
GRAND PRIX
HOTEL PACKAGES