Montreal Grand Prix 2015 Winner Lewis Hamilton
Last updated: April 4, 2016
At Canadian Grand Prix in Montreal, 2015 British driver Lewis Hamilton scored a win over Mercedes team mate Nico Rosberg in Canada. Hamilton never lost the lead, except for one lap where he made his pit stop.
However, although he might have made victory at Circuit Gilles Villeneuve look easy it was a tense race throughout and Rosberg didn't let Hamilton escape at any point. Both drivers pushed hard and Hamilton had to lift and coast more than once in order to conserve his fuel. Rosberg had to ease back and make sure that his front brake temperatures were kept within limits. These phases went back and forth as the two were separated by only about one second on several occasions.
As things got into the final laps, Hamilton eased away which gave him the chance to win by 2.2 seconds – even despite backing off slightly on the final lap.
About Lewis Hamilton
Lewis Hamilton made a big impression when he came on the scene in 2007 and he has had a very exciting rookie career. The talented British driver has achieved three world championships and has established himself as an impressive Formula One driver.
He comes from a mixed background, with a black father and a white mother, and he is often referred to as the "first black driver in Formula 1." (Although in 1986 Willy T. Ribbs tested a Formula One car.)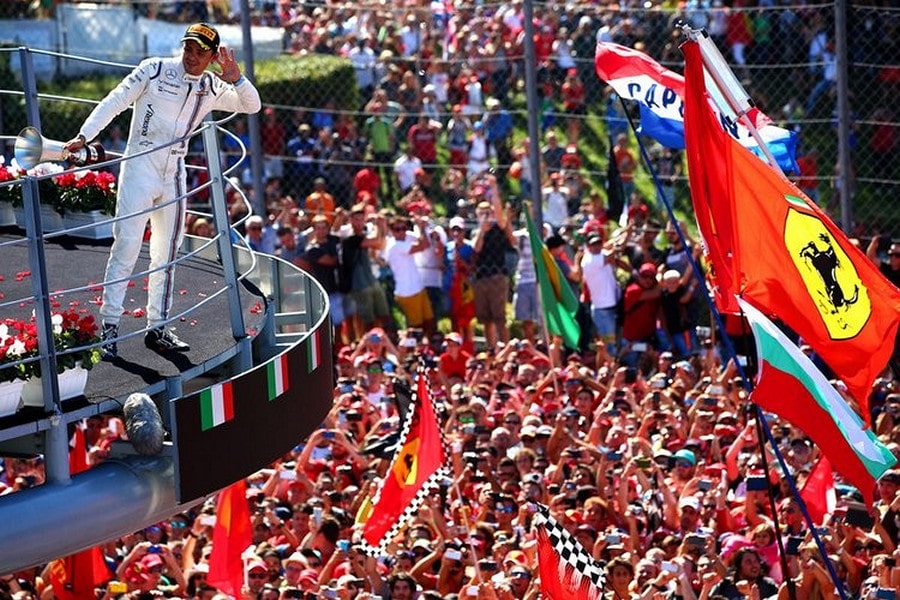 He has always been passionate about racing and he got his first go-kart when he was six. His father told him that as long as he worked hard at school, he would support his racing career. Hamilton's father sometimes worked three jobs at a time in order to support his son, while still finding time to attend his races. At one point his father even worked as his manager.
By the age of 10 Hamilton was the winner of the British Cadet Kart championship – the youngest winner in history. He had excellent racing skills beyond his years and he was quickly gathering a collection of trophies.
In 2002 he decided to compete in his first British Formula Renault series, and he finished third in his debut season. He took the championship the year later when he had a record breaking 10 wins and nine fastest laps.
He moved into the F3 Euroseries and the Grand Prix over the next few years, stunning everyone with his excellent performances. He was compared to a young Fernando Alonso in his racing style and the consistency of his impressive skill.
He hit a few snags in 2009 when he was disqualified in Australia after it was thought that he misled race stewards deliberately, but he never gave up and he eventually turned the season around. He won the Grand Prix in Hungary, Singapore, Turkey and Canada and his success has improved ever since – including winning the 2016 Montreal Grand Prix.
Curious to see how Hamilton will handle Montreal's circuit during the 2016 F1 World Championship's Canadian Grand Prix? Get your tickets today for access to the hottest event in Montreal and what is bound to be the most thrilling race of the season!